13 May 2022
BISOL1542 announces the 1st prosecco superiore coast-to-coast road tour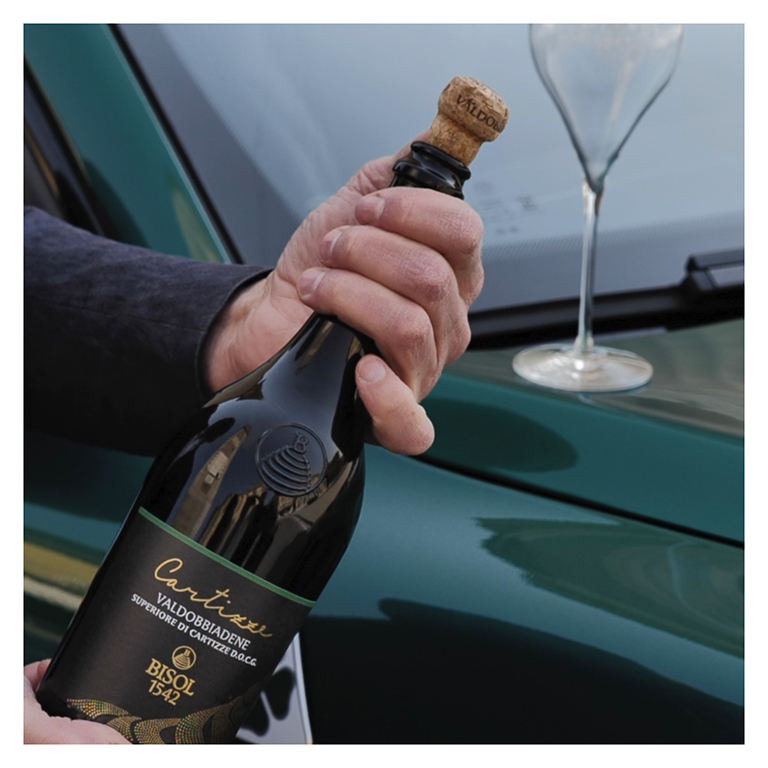 Gianluca Bisol, representing one of the purest expression of Prosecco Superiore,
visits 14 Cities Across the United States to Educate and Celebrate Prosecco Superiore DOCG
NEW YORK, NY (April 2022) – Bisol1542, often referred to as one of the purest expression of Prosecco Superiore, and fine wine marketer Wilson Daniels are excited to announce an impressive 14-city, 25-day coast-to-coast US road tour this spring to showcase the Bisol1542's 500+ years of winemaking tradition in Valdobbiadene through their distinctive portfolio of Prosecco Superiore DOCG shades.
The exceptional tour combines for the first time this way a selection of the the best of made in Italy: wine and automotive.
Gianluca Bisol will drive 4,732 miles across the country in an eye-catching green 2022 Stelvio Quadrifoglio by Alfa Romeo -Italian luxury car manufacturer brand partner- educating trade, media, and consumers about the heritage of Valdobbiadene, though the lens of three of the Bisol1542 terroir-driven Superiore crus:
• Crede Valdobbiadene Prosecco Superiore DOCG
• Relio Rive di Guia Valdobbiadene Prosecco Superiore DOCG
• Cartizze Valdobbiadene Superiore di Cartizze DOCG
Jeio Brut Valdobbiadene Prosecco Superiore DOCG from the brand's second label, named for Gianluca's grandfather Desiderio "Jeio" Bisol, will also be featured prominently on the tour.
"This US road tour has been a dream of mine for many years, and I'm so excited that it's finally coming to fruition this spring," said Gianluca Bisol, President of Bisol1542. "For the past 35 years that I've been selling Bisol1542's wines in the US, our mission has remained the same: to produce the best expression of Prosecco Superiore in the world, and to share my home of Valdobbiadene with American consumers through our wines. With the collaboration of Wilson Daniels and our partners Alfa Romeo and Seventy Venezia, I'm excited to activate this mission on such a large scale for the first time in the US. We look forward to meeting everyone and sharing a glass of Prosecco Superiore very soon!"
The coast-to-coast road tour will kick-off in Boston on April 26th, followed by stops in New York, Washington DC, Raleigh, Charleston, Miami, Tampa, Destin, New Orleans, Houston, Dallas, Phoenix, Las Vegas, and concluding in Los Angeles on May 19th. Each city will feature intimate tastings for the trade and press that showcase the wines' food pairing versatility, as well as large-scale consumer activations anchored by four marquee rooftop aperitivo celebrations in New York, Miami, Dallas, and Los Angeles, as detailed below.
"Most US consumers have become quite familiar with Prosecco DOC and have integrated this approachable, enjoyable sparkling wine into their everyday lives," said Rocco Lombardo, President of Wilson Daniels. "We're now at a pivotal moment in the category's development where there's opportunity to educate on the different quality tiers, and expand consumers' understanding of the nuanced terroir expressions throughout Valdobbiadene. Bisol1542 has been producing these single-vineyard cru expressions of Superiore since many years, before the region was officially classified as a DOCG in 2009. Coupled with Gianluca's passion and charismatic personality, there's really no better person to tell the quality story of Prosecco Superiore and what makes it distinct from other Prosecco wines."
In addition to its rich history of wine production dating back to 1542, Bisol1542 has extensive vineyard holdings throughout the Prosecco region, concentrated in Valdobbiadene and inclusive of 7 acres at the top of 'Chartice' — the most prestigious hill within the renowned Cartizze subzone. With a total of 20 vineyard holdings of varying slopes and exposures; a commitment to environmentally techniques in the vineyards; and separate vinification based on soil type, Bisol1542 occupies a wholly unique position within the Prosecco Superiore landscape.